Live Cell Calcium Assay Kit – GECO
Real time kinetic Ca2+ sensor for fluorescent plate readers and imaging systems.
The GECO assays (R-GECO, G-GECO) are fluorescent calcium assays for real time kinetic readouts. This genetically encoded fluorescent sensor is available in both red or green versions, can be expressed in a variety of cell types for plate reader or imaging applications. Developed by Robert Campbell's lab at University of Alberta, Montana Molecular packages these calcium sensors in viral vectors for robust expression in your favorite cells.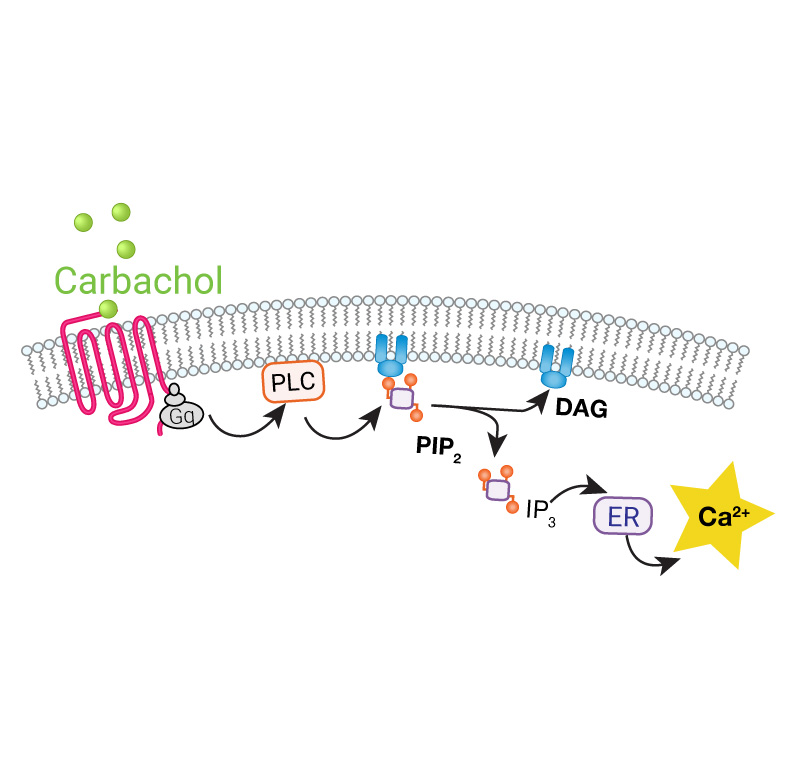 Off the shelf kits include the GECO sensor in BacMam, a BSL-1 viral vector for efficientl delivery to most cell types. Purified BacMam, AAV, Lenti vectors by request.
Single-channel readout is detectable on standard fluorescence plate readers or imaging systems.
Robust expression in wide variety of cell types
Combine with Gs/Gq assay for calcium signaling specificity
Can be targeted to mitochondria or other microdomains
Bright Red & Green Fluorescent Calcium Sensors
Genetically encoded for low toxicity
Real-time kinetic readout
Robust expression in variety of cell types
Easily combine red or green GECO sensors with other GPCR sensors to measure multiple pathways simultaneously
"Assay is working beautifully with cardiomyocytes, showing a strong and immediate response."
"Expression in human islets is pretty superb, after 18 hours of incubation. An excellent probe!"
Increase your understanding of drug effects and GPCR biology with bright fluorescent assays for Gs, Gi, and Gq signaling in living cells.
Shop Other Assay Kits by Category
Need Help? Customer Service & Support