Live Cell Calcium Assay Kit – GECO
Real time kinetic Ca2+ sensor for fluorescent plate readers and imaging systems.
The GECO assays (R-GECO, G-GECO) are fluorescent calcium assays for real time kinetic readouts. This genetically encoded fluorescent sensor is available in both red or green versions, can be expressed in a variety of cell types for plate reader or imaging applications. Developed by Robert Campbell's lab at University of Alberta, Montana Molecular packages these calcium sensors in viral vectors for robust expression in your favorite cells.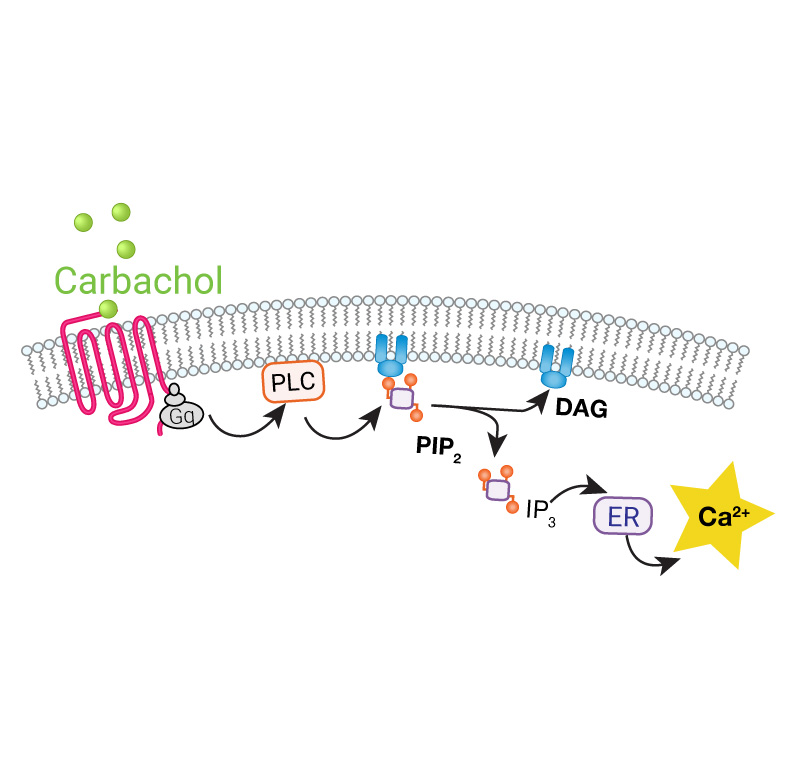 Off the shelf kits include the GECO sensor in BacMam, a BSL-1 viral vector for efficientl delivery to most cell types. Purified BacMam, AAV, Lenti vectors by request.
Single-channel readout is detectable on standard fluorescence plate readers or imaging systems.
Robust expression in wide variety of cell types
Combine with Gs/Gq assay for calcium signaling specificity
Can be targeted to mitochondria or other microdomains
Bright Red & Green Fluorescent Calcium Sensors
Genetically encoded for low toxicity
Real-time kinetic readout
Robust expression in variety of cell types
Easily combine red or green GECO sensors with other GPCR sensors to measure multiple pathways simultaneously
"Assay is working beautifully with cardiomyocytes, showing a strong and immediate response."
"Expression in human islets is pretty superb, after 18 hours of incubation. An excellent probe!"
J. Wu, et al. Interaction Between HCN and Slack Channels Regulates mPFC Pyramidal Cell Excitability and Working Memory. bioRxiv. March 2023.
M. Thomas, et al. Optically activated, customizable, excitable cells. PLOS One. December 2020.
L. Liu, et al. Diacylglycerol kinases regulate TRPV1 channel activity. Journal of Biological Chemistry. April 2020.
S. Hoare, et al. A kinetic method for measuring agonist efficacy and ligand bias using high resolution biosensors and a kinetic data analysis framework. Nature Scientific Reports Feb 2020.
K. Harlen, et al. Live-Cell Assays for Cell Stress Responses Reveal New Patterns of Cell Signaling Caused by Mutations in Rhodopsin, α-Synuclein and TDP-43 Front. Cell. Neurosci.,December 2019
M.C. Cañizal, et al. A Dual Ca2+/ DAG Sensor Reports on Ligand Efficiency.
C. Xingjuan, et al. PKC-dependent Phosphorylation of the H1 Histamine Receptor Modulates TRPC6 Activity. Cells. 2014.
P. Tewson, et al. A multiplexed fluorescent assay for independent second-messenger systems: decoding GPCR activation in living cells. Journal of Biomolecular Screening 18, 2013.
J. Wu, et al. Improved Orange and Red Ca2+ Indicators and Photophysical Considerations for Optogenetic Applications. ACS Chem Neurosci. Jun. 19, 2013
H.J. Carlson, et al. Mutational Analysis of a Red Fluorescent Protein-Based Calcium Ion Indicator. Sensors, 2013.
P. Tewson, et al. Simultaneous Detection of Ca2+ and Diacylglycerol Signaling in Living Cells. PLoS One. 2012.
Increase your understanding of drug effects and GPCR biology with bright fluorescent assays for Gs, Gi, and Gq signaling in living cells.
Shop Other Assay Kits by Category
Need Help? Customer Service & Support