cADDis: Live Cell cAMP Assay Kit
Use cADDis to measure cAMP through Gs or Gi signaling in real time with a single sensor. • Plate reader or imaging system compatible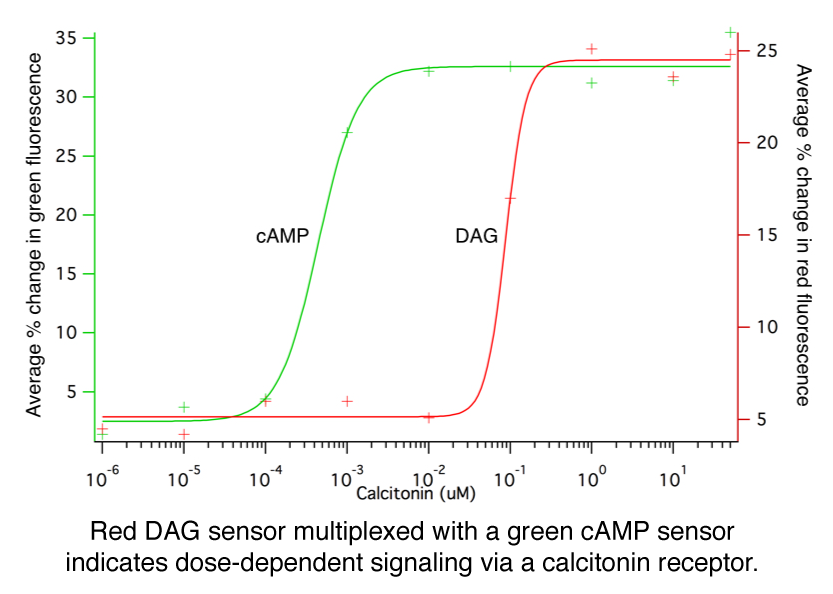 Multiplex Assays
Combine red and green sensors to measure multiple GPCR pathways simultaneously
A robust and versatile cAMP assay kit:
cADDis is a genetically-encoded fluorescent cAMP assay that detects changes in cAMP in real time.
Screen Gs or Gi-coupled GPCRs in living cells
Viral vector delivery to practically any cell type
Target to microdomains or specific cells in mixed cultures
cADDis cAMP assay performance:
Off the shelf kits include the cAMP sensor in BacMam, a BSL-1 viral vector for efficiently deliver to most cell types. Purified BacMam, AAV, Lenti vectors by request.
Easily detectable on plate readers or imaging systems.
Controllable expression in BacMam vector.
High signal to noise ratio
Simple protocol:
Provided online is a simple cAMP assay protocol, with no need for co-factors, cell lysis, or complex liquid handling.
No lysis or complex liquid handling
Single channel, non-FRET signal
cADDis – cAMP Assay Application Notes
Need Help? Customer Service & Support